Using stationery mockup is the best way to catch your client's attention. It's too late to send your client a flat lifeless image of your design and expect that he will be amazed by it. Also using this mockups to show on your portfolio, will bring you more clients.
I know that most of the high quality mockup can cost you a lot of money. Which might be hard for some newbie designers or hobbyist. So today I brought you 12 of the best stationery mockups I found so far for free.
This one is really ideal for corporate stationery. It's high resolution with (5000 x 3750 px at 300 dpi) dimensions. The main issue is it has fixed background but still very good mockup for free.
I find this one is more for personal brand or online business. As you might notice there is no business card in the mockup which is an esse3.ntial in corporate identity. However it's also high resolution with 4000 × 5200 px dimensions and a variety of items to show your work on.
This modern branding identity mockup is very useful as well for corporate identity. It contains all the essential items such as business card, letterhead, envelops and a roll of drawings as a plus. It also comes with very high resolution of (5000 x 3750 px at 300 dpi) dimensions. Also in 2 different backgrounds. Light and dark one.
Now we have another one that contains all the essential items for corporate brand identity. It also offers different angled closeups which is an add value shots. With good resolution as well of 3500 x 2625 px.
As shown above and from the title, it's a dark themed mockup. It also contains a business card, letterhead, envelop & CD mockup. the resolution is also very high with 5000 x 3750 px dimensions at 300 dpi.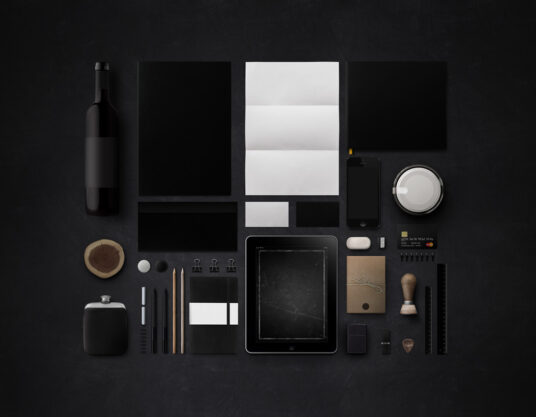 This branding identity kit includes a lot of items which you might not need for all type of business. But still you have a bottle, ATM card and perfume bottle mockups. Also this one comes with dark background. and with a very high resolution 5336 x 6605 px at 300 dpi.
Now we have this branding identity with different stationery items plus the printed stationery products. I really like the idea of the stamp but wish there was a place where you can show the stamp on a paper.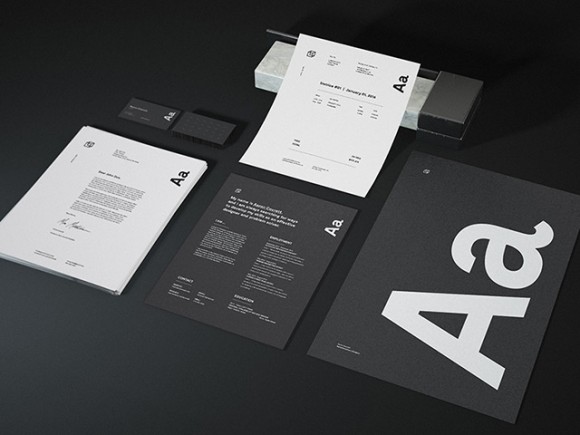 Not sure why they call it granite stationary mockup, but I guess due to the granite sample they have on the table. Also they have the business card, letterhead and the folder of papers.
This one is quite simple and useful. The distribution of items is well organized. They provide business card back & front, letterhead and another type of documents holder. Also they have pen mockup but make sure you can find this one in your local store before your client asking for it.
This one is very clever in spacing between items but it's not really focus on all of them. It has several items but not located as a stationery show. Also some items are cropped due to the large space they spread all items in. However they have the flash memory mockup which might be useful but also ask about it in your local store before showing it to your client.
I really like this one a lot. It has a very realistic background. So you can show a real example of how the stationery would look like to your clients. Also they included all the essential items of the stationery. The dimensions are 4000×3000 px which is good resolutions as well.
Finally I find this one is the perfect free mockup so far. They have different shots from different angles and different items as well. They also added some free image filters to their mockups. The items included is sufficient to create the whole stationery mockup. I really find it very awesome chance as a free mockup
Your Turn
Now go and download all of them and impress your clients with a professional presentation of your stationery and brand identity work.
Also check my blog post How to Create a Good Logo Design Brief for Your Client's Visual Brand to understand more about your client's business nature and needs to provide them with the best solution.
At the end please comment below if your found any other free mockups online so you can support other designers.