If you're a designer, there's no shortage of books out there ready to inform and inspire you. The only problem is deciding which ones are worth your time. On the topic of logos alone, there's hundreds of titles to choose from. We've handpicked a list of the top twelve logo design books that will further your design education. Take a look below, and let us know what you think in the comments below.
By David Airey
Completely updated and expanded, the second edition of David Airey's Logo Design Love contains more of just about everything that made the first edition so great: more case studies, more sketches, more logos, more tips for working with clients, more insider stories, and more practical information for getting the job and getting it done right.
In Logo Design Love, David shows you how to develop an iconic brand identity from start to finish, using client case studies from renowned designers. In the process, he reveals how designers create effective briefs, generate ideas, charge for their work, and collaborate with clients. David not only shares his personal experiences working on identity projects-including sketches and final results of his own successful designs-he also uses the work of many well-known designers such as Paula Scher, who designed the logos for Citi and Microsoft Windows, and Lindon Leader, creator of the current FedEx identity, as well as work from leading design studios, including Moving Brands, Pentagram, MetaDesign, Sagmeister & Walsh, and many more.
In Logo Design Love, you'll learn:
Best practices for extending a logo into a complete brand identity system
Why one logo is more effective than another
How to create your own iconic designs
What sets some designers above the rest
31 practical design tips for creating logos that last
By A Michael Shumate
The world famous branding designer, Ivan Chermayeff said of the first edition of Logo Design Theory, "At last somebody actually understands what identity design is all about and how it is accomplished."
Logo Design Theory explains the underlying principles of logo design, branding design, corporate identity design with clear examples and logical text.
Section 1: Foundational Principles of Graphic Design In our digital age many design schools concentrate so much on design software that some basic precepts may be missing from the curriculum. Here are some essential principles that have great impact on branding design.
Section Two: Branding Fundamentals Understanding some basics of branding history, both ancient and recent, will give us perspective on branding design today.
Section Three: Core Principles: Generating Concepts Better identities are created from a position of wealth of concepts rather than just one or two concepts. A proven method to develop more and better corporate identity concepts.
Section Four: Core Principles: Seven Deadly Sins of Logo Design Several common approaches to identity design prevent an identity from working in ways that every identity should be able to work.
Section Five: Core Principles: Visual Techniques Any given concept can be executed in virtually endless ways. These techniques can transform a common concept into an uncommon, or even remarkable final identity.
Section Six: Core Principles: Color, Typographic & Spatial Issues Even superior designs can be undermined by poor color, typographic or spatial choices and how to prevent that.
Section Seven: Implementing Core Principles of Identity Design Hundreds of current examples demonstrate the consequences of deviating from the Core Principles of Branding Design plus the benefits of redesigning to abide by them.
By Alexander Tibelius
With this toolbox of practical logo templates a la Neubau Welt, Alexander Tibelius provides designers with useful groundwork for implementing their own ideas. All designers are familiar with this problem: one element is still missing and a deadline is fast approaching. They can imagine the suitable component, but since it isn't at hand, it first has to be created in a time-consuming process. What could help simplify and shorten typical design processes? Which tools would one always like to have available? With his 900+ templates for contemporary graphic and logo design, Alexander Tibelius provides designers with the right basic materials for further processing and tuning. Thanks to The Logo Design Toolbox, no one has to reinvent the wheel –or almost anything else for that matter. The book provides a variety of designs for items from wheels, sashes, laurel wreaths, and crowns to anchors, beards, and pirate skulls, along with multiple renditions of letters, triangles, stars, ornaments, and speech bubbles. Everything pictured in Tibelius's book is, of course, also available as a scalable and customizable vector file. Comparable to popular Gestalten publications such as Neubau Welt or Carsten nicolai's Grid Index, this clearly structured toolbox provides designers with some of the most used, recurring elements, symbols, and motifs in logo and layout design in all of their conceivable permutations. These can be used by amateurs and professionals alike as a time-saving basis for creating their own cards, flyers, posters, websites, presentations, logos, or t-shirts. In short, the multifaceted compendium The Logo Design Toolbox will serve any graphic designer as a practical helper for producing specific, goal-oriented results.
By Luke B. Sleaford
Many designers can create a logo. But only 'brilliant designers' create a lasting relationship with their client.
Written for working art studios, Logo Process is the art director's guide to create BIG logos for small business. It can be read in under an hour and is a lifesaver for time-poor creatives from freelancers and web developers to design students.
Designers will discover how to:
Spend less time on unused logo concepts
Get clients invested in a design right at briefing stage
Boost recall with tactics big brands use
Pitch designs with confidence work won't be rejected
Use 27 visual traits to create better logos
Logo Process deserves a place in the design library of everyone who creates logos for small business or online brands.
This studio hardcover edition includes the best briefing questions to ask before creating a logo and updated pro-forma logo examples.
By Josh Cooper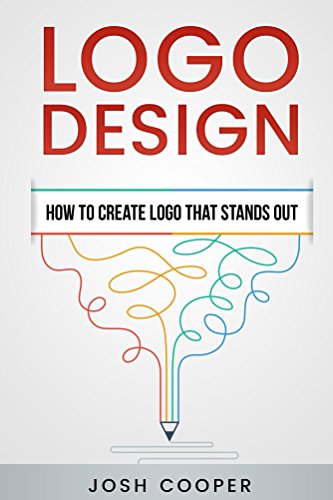 The logo creation is a basic branding activity, that more often than not amplifies the unique message of a brand. Designing this decisive image is done carefully, bearing in mind the impression the brand intends to make on clients. The logo is the identity of a business or organization, which also helps clients generate favorable thoughts and feelings about the business or organization. Logo creation is so important to the business of a company or organization that some big companies allocate huge amounts of money to logo creation alone In the past, people have used symbols and pictures as logos. However, modern logos are mostly graphical and designed in such a way that makes them easily recognizable. This book will give you – a brief description of a brand and branding message – the place of a logo in the branding activities – examples of different types of logos and their utility – steps you need to take in the designing process of a logo – how to hire a professional to make the logo for you; – the costs of logo designing; – what does it take to design a logo, yourself – what makes a logo look good and fulfill its purpose; – what mistakes should you avoid in the process of designing a logo Happy reading.
By Michael Evamy
A logo should be distinctive, memorable and clear. To be great, it should do those things better than the rest. – Michael Evamy This bestselling branding bible has provided graphic designers with an indispensable reference source for over a decade. Logo is now getting a revamp with the addition of over 300 new logos in this fully revised and updated edition. The book contains a vast visual collection of over 1,600 symbols and logotypes, including 300 brand new logos. All the logos are grouped into visual categories such as crosses, stars, crowns, animals and people, and are shown in black and white to further emphasise the visual form. The logos are from a diverse range of companies and includes design masters such as Paul Rand and Saul Bass alongside some of the most exciting work from contemporary designers. This compelling compendium takes the reader on a journey showing how each form has evolved through history. All logos are active and include household names like Disney, Apple, and Starbucks next to lesser known designs giving a comprehensive snapshot of the full scope of logo design. This is a complete, taxonomical guide to the history, development, and style of identity design. The must-have book for any graphic designer, student or type fanatic in a fully revised, updated edition. The next time you are tempted to design a logo, take a look at this book. Chances are, it has already been done. By raising the bar, this wonderful resource will make better designers of all of us. – Michael Bierut, Pentagram
By Bill Gardner, Sarah Whitman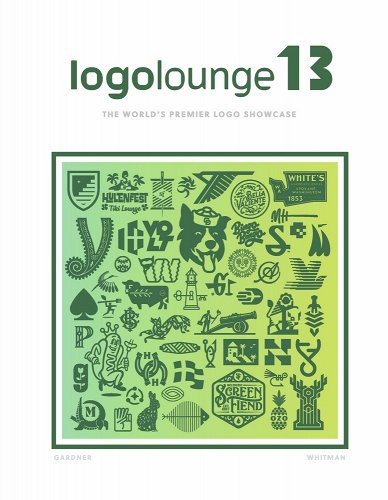 The 13th editions of the bestselling LogoLounge book series features the latest and greatest of identity design created by highly accomplished and noteworthy designers from all around the world. Carefully curated by an expert panel made up of some of the most revered names in the industry, this volume offers up endless opportunity for insight and inspiration. Discover 3000 amazingly crafted logos organized into unique visual categories for easy reference. Throughout the book, bonus case studies from respected designers, including Allan Peters, Konstantin Reshetnikov, Kim Berlin, and Damian Orellana provide a deeper look at branding genius at work. This is the definitive identity resource for designers, creative directors, brand managers, and more.
By Victionary
When it comes to building a brand, logo design is often one of the first few important steps in the creative journey. With so much more competition to contend with today, how can designers help start-ups and evolving brands put their best foot forward visually? A key branding element used by many of the biggest companies around the world, a logotype revolves around a company's name or initials and features typography as the main design approach. From Type to Logo details the processes of combining the two distinct design disciplines in a compelling book of case studies that make an inspiring reference point for budding and working branding professionals alike.
By George Bokhua
Learn to design simple, powerful, and timeless logos. *Winner of the 2022 American Graphic Design Award for Book Design from Graphic Design USA* When you think of a brand, often the first thing that comes to mind is the logo, the visual representation of that product, place, thing, or business. The power of simplicity for these marks can never be underestimated–a logo that comprises simple shapes can communicate a stronger message than a complex one, leaving a lasting impression in a viewer's mind. In Principles of Logo Design, noted logo designer George Bokhua shares his process for creating logotypes that will stand the test of time. Applying the enduring principles of classic texts on grid systems by Josef Muller-Brockmann and on form and design by Wucius Wong, Bokhua elaborates on his popular online classes, demonstrating in detail how to maximize communication with minimal information to create logos using, simple, monochromatic shapes. This comprehensive volume includes:
How to apply a strong, simple, and minimal design aesthetic to logo design
Why gridding is important, and understanding the golden ratio and when to use it
How to sketch and refine logos through tracing, then grid and execute a mark in Adobe Illustrator
Fine-tuning techniques to ensure visual integrity
Knowing how to design a great logo is a core skill for any graphic designer. Principles of Logo Design helps designers at all levels of skill and experience conceive, develop, and create logos that are not only pleasing to the eye but evoke a sense of perfection.
By Julius Wiedemann
Following up on the best-selling Bibliotheca Universalis logo manual, this second volume focuses on corporate identity. In a globalized world, more and more symbols convey values ​​such as trust, quality, or reliability. This catalog comprehensively breaks down how texts, images, and ideas are condensed into distinctive brands.
From airlines and groceries, sportswear and computers, museums, and magazines, to car brands, music labels, pharmaceuticals, and internet portals, this band offers around 4,500 brand logos including complete background information about designers, year of origin, and country, as well as brands and companies. A great reference book for anyone interested in the ideas and concepts that branding is based on.
By Jens Müller, R. Roger Remington
Modernist aesthetics in architecture, art, and product design are familiar to many. In soaring glass structures or minimalist canvases, we recognize a time of vast technological advance which affirmed the power of human beings to reshape their environment and to break, radically, from the conventions or constraints of the past. Less well-known, but no less fascinating, is the distillation of modernism in graphic design.
This unprecedented TASCHEN publication, authored by Jens Müller, brings together approximately 6,000 trademarks, focused on the period 1940-1980, to examine how modernist attitudes and imperatives gave birth to corporate identity. Ranging from media outfits to retail giants, airlines to art galleries, the sweeping survey is organized into three design-orientated chapters: Geometric, Effect, and Typographic. Each chapter is then sub-divided into form and style led sections such as alphabet, overlay, dots and squares.
Alongside the comprehensive catalog, the book features an introduction from Jens Müller on the history of logos, and an essay by R. Roger Remington on modernism and graphic design. Eight designer profiles and eight instructive case studies are also included, with a detailed look at the life and work of such luminaries as Paul Rand, Yusaku Kamekura, and Anton Stankowski, and at such significant projects as Fiat, The Daiei Inc., and the Mexico Olympic Games of 1968. An unrivaled resource for graphic designers, advertisers, and branding specialists, Logo Modernism is equally fascinating to anyone interested in social, cultural, and corporate history, and in the sheer persuasive power of image and form.
By Jens Müller, Julius Wiedemann
Countless global brands, including Rolex, BMW, Louis Vuitton, and the New York Yankees, still use logos that were designed over 100 years ago. Yet there has never been a monograph devoted to the origins of logo design. In the second half of the 19th century, the trademark replaced traditional symbols such as the family coat of arms as a promotional and identifying symbol for companies. At first, the designs were often still figurative; only gradually did they develop into the abstract marks that have become fixtures in everyday life today.
Author Jens Müller, described as the "logo detective" by Wired magazine, examined historical trademark registers, international corporate archives, and early design publications to unearth more than 6,000 logos from 1870 to 1940. This unparalleled collection traces the development of modern trademarks and sheds light on forgotten designs and early versions of famous logos. The catalog is divided into four design categories: "Figurative," "Form," "Effect," and "Typographical." Each chapter is then systematically subdivided according to basic elements of design such as circle, line, overlap, and outline, thus offering a new perspective on design principles that are still relevant today.
Along with an extensive picture section, the book comprises an introduction by Jens Müller on the history of the trademark as well as a reproduction of the first comprehensive examination of modern corporate logos: the influential design pioneer F.H. Ehmcke's (1878-1965) illustrated essay "Wahrzeichen–Warenzeichen" (Symbols–trademarks) from 1921. Also included are ten case studies of famous trademarks, including those of 3M, NBC, Shell, and Olivetti, and numerous rare images illustrating the–at times varied, at times consistent–developments in international logo design and the birth of the corporate identity. Logo Beginnings is not only a fundamental and inspiring graphic design manual but also an excellent read for anyone interested in social, cultural, and corporate history and the fascinating impact of trademarks. It is also the perfect complement to the TASCHEN classic Logo Modernism.